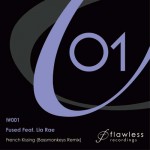 Flawless Recordings is a brand new independent House Music label launched under the Flawless umbrella.
 The Label has been created by Flawless directors Tom Upton, Steve Westover and Mark Masters each adding there unique expertise to the label.
Flawless Recordings is part of the new generation of labels pushing and breaking through new producers/artists and aims to provide the worlds finest DJ's with fresh, innovative and  up-coming talent.
For our debut track we have teamed up with FUSED and our first release will be entitled "French Kissing" feat vocalist Lia Rae. The track is already causing a stir with support coming from the likes of Bassmonkeys, Mark Doyle & Reza to name a few.
Musically Flawless will be trying to keep the horizons as broad as possible as there will be various sides to the label that will cover House, Vocal House, Tech, Progressive plus there will be a more commercial side too.
Flawless Promotions will run alongside the label showcasing all the new talent that is being signed / released from the label, this will allow for new producers & DJ's that are signed to the label to showcase there talent and break through the ranks. For all Flawless events visit www.flawlesslondon.co.uk 
If you are a producer and would like to submit any tracks then please feel free to email any links to the tracks to info@flawlessrecordings.co.uk